A Newsletter of Indivisible Bluegrass
---
March 16, 2017
Protest to Support Healthcare this Friday!
As we see our health care in danger of being ravaged, Indivisible Bluegrass is organizing a protest march in front of Central Baptist Hospital on Friday, March 17th, between 4 – 6 PM. We think St. Patrick would approve. As you know, Central Baptist is located on Nicholasville Road, one of the busiest thoroughfares in our city. A good place to be seen. Signs and posters are welcome as are crutches, walkers, bandaged limbs, wheelchairs, etc.. We'll be marching on the sidewalk in front of the hospital, right next to Nicholasville Rd. (address is 1740). Parking is suggested on the residential streets across from the hospital or Southland Drive. Car pooling would be a good idea. By the way, Indivisible chapters across the country will be staging similar events that day.
Join us for Andy Barr's Coffee at EKU on Saturday, March 18th, 10 – 11 AM
Rep. Andy Barr is holding what will be his third gathering this year where his constituents may talk to him and ask questions. We are very pleased to have this opportunity and that he is being receptive to meeting with his constituents. The address is Eastern Kentucky University, Carl D. Perkins Bldg., 4440 Kit Carson Drive, Richmond, KY 40475. Because our other congressmen have been less than forthcoming in making themselves available to constituents outside paid or invitation-only events, Rep. Barr is giving us an opportunity to talk with him. Let's make use of it. The venue, once we are inside the Perkins Bldg., may well be a conference room so signs are probably not going to work well. What we do need though are your questions, your enthusiasm and your presence so that Rep. Barr will have an opportunity to become acquainted with us and us with him.
The Research Group
We offer thanks to our Research Group for providing us with new and improved talking points as well as weekly synopses that provide a "deeper dive" into the facts so that we can keep on top of issues and know where to best direct our energies. Peter Wedlund, Ph.D, BS, Retired UK faculty, is assisted in the group by Colleen Bellas who provides input from the members watching the MoCs. Other indispensable Research Group members include Shannon Arnold, Master of Divinity; Lori Miller, Ph.D.. MA and MSLS; Lois Gillespie, MAT, BS, AS, Retired Teacher; Debby Edelen; Jack Furlong, Ph.D, MA, BA, Faculty Transylvania; Tom Turino, Ph.D; Paul Winther, Ph.D., BA, Retired EKU Faculty; Andy Mead, Newspaper Reporter (retired); and John Stempel, Ph.D., Director of UK Patterson School of Diplomacy (Retired), US Foreign Service (Retired).
How to Communicate with the Other Side
Dr. J. Ian Norris delivered a lecture at our member meeting on March 5th about reaching common ground across the political spectrum. Norris gave his remarks to a packed crowd at the Unitarian Universalist Church which generously hosted us. He provided some valuable insights on how one talks with another who has a completely different set of views, something many of us are finding challenging.
For more information on the topic, Dr. Norris scan be contacted at norrisj@berea.edu.
We must keep the pressure on!
It cannot be overstated how important it is for all of us to continue writing and calling our MoCs on specific issues as part of Indivisible's coordinated national campaigns. As important as the visits are to our MoCs, this is even more important and it can be done by everyone. Before the election, letters and phone calls to MoCs ran 8 to 1 conservatives, while after the inauguration, it was 10 to 1 liberals. This is tapering off a bit and we cannot let that happen. Members can learn the topics of the week through our regular alerts and the Talking Points section of our web site. https://www.bluegrassactivistalliance.org/resistance-toolkit/talking-points/.
Please keep writing and calling!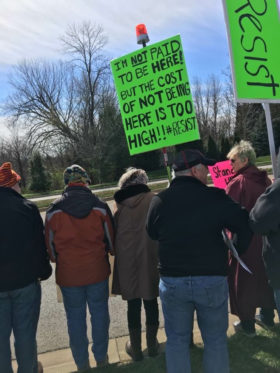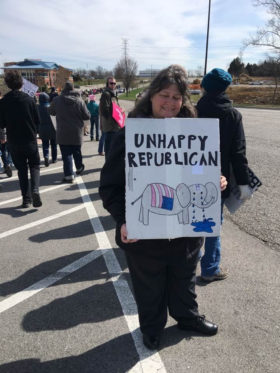 Protesters at Pence Visit
Pence Visit to Louisville = Protesters
In an effort to convince people to support TrumpCare, VP Mike Pence made a quick visit to Louisville on March 11th. He was met by around 600 protesters letting him know that he wasn't going to get very far with them. Many groups turned out, including Indivisible Louisville, Black Lives Matter, Jobs with Justice and Indivisible Bluegrass. As is so often the case with this administration, it was an invitation-only affair but the protesters were able to make themselves known. One of our members, Nancy Barnett, attended and said the protesters were very respectful to the police, many thanking them as they left. Only about seven pro-Trump signs were in evidence. Also, there was a large luxury bus with a sign on it saying, "Save My Care" and those riding in it dispersed into the crowd with loud speakers and leading chants. As Barnett said, It was "a beautiful day for a protest."
Visits to MoCs Continue
Each week a group of Indivisible Bluegrass head to Mitch McConnell, Andy Barr and Rand Paul's Lexington offices. Usually our group is anywhere from 10-30 members. We are seeing a little progress in our reception at McConnell's and Barr's. Our first meeting at McConnell's was challenging and, while we finally got in, it was clear the aide who had to deal with us was not real pleased. (We always meet with the aide as the MoC is never in town when we're there) The reception at Barr's office has been more cordial and we were even offered chairs for all of us. The visits to McConnell's are easier now although I don't think the aide is any happier when we arrive. We did request that he write down our concerns and pass them on to the senator and he was reminded a couple of times that he was supposed to be writing down the questions.
We're a pushy bunch. Many members of the group also leave written statements and/or questions addressed to the congressman. As to Rand Paul, we have had only one meeting with an aide and the state manager. No other requests for meetings at his office have been honored although we are continuing to press. He ducks, we persist.
Since our inaugural Resistance newsletter on March 2nd, talking points at the MoC meetings have included:
Will the Senator support the confirmation of Seema Verma as Director of CMS?
Will the Senator support the confirmation of Rick Perry for Energy Secretary?
Does the Senator support Trump's new proposals on immigration? How does the Senator stand on these specific proposals?
Trumpcare (we are calling it that because he does not want us to!)
Deregulation, or as Bannon says, "the deconstruction of the administrative state."
To stay aware of talking points that are suggested for each week, go to https://www.bluegrassactivistalliance.org/resistance-toolkit/talking-points/.
Please consider volunteering to be a leader for one of these visits. You are needed! This is an important, ongoing Indivisible Bluegrass activity and, to keep anyone from having to work too hard, we need more volunteer visit leaders. There will be a "leader training" session in the next few weeks. If there is any chance you can help with this, please contact Rita Salzberg at
docsalzberg@gmail.com
.
In reaction to a conversation overheard at a recent Indivisible Bluegrass "Braintrust" meeting—a comment was made concerning how our congressmen are trying to govern by anecdote, when what we want is government by data, one of the attendees said:
"We're tired of being governed by anecdote!
Three is a trend?
Four is a groundswell?…
NOT!"

It's a Marathon, Not a Sprint
Much remains to be done to keep the momentum going. We need people to:
Monitor the activities and schedules of our MoCs so that we can act strategically.
Recruit more members from minority and rural areas within the district.
Serve as liaisons with other resistance groups to coordinate efforts.
Join in some of our weekly visits to our MoC offices and/or volunteer to be a leader of some of the visits. Anyone interested can contact Rita Salzberg at docsalzberg@gmail.com.
Review our Alerts on to learn about what's coming up.
UPCOMING EVENTS!!!
FRIDAY, MARCH 17, RALLY FOR HEALTH CARE IN FRONT OF CENTRAL BAPTIST HOSPITAL, NICHOLASVILLE RD, 4 – 6 PM
SATURDAY, MARCH 18, COFFEE WITH ANDY BARR, EKU, CARL- PERKINS BLDG., 4440 KIT CARSON DR., RICHMOND, KY, 10 to 11 AM
MONDAY, MARCH 20, 5 TO 10 PM, LOUISVILLE MOVEMENT AGAINST TRUMP, TICKETS AVAILABLE AT INDIVISIBLEKY.ORG SPONSORED BY "STAND UP LOUISVILLE" AND FOUR OTHER ORGANIZATIONS.
SUNDAY, MARCH 26, TRAINING PROGRAM FOR MoC VISITS, 1-2:30 PM, LEXINGTON PUBLIC LIBRARY, MTG. RM A