Bluegrass Activist Alliance is the merger of two Central Kentucky activist groups, Indivisible Bluegrass and Together We Will Bluegrass. The groups worked together throughout 2017 as they fought the Trump and Bevin agendas and promoted progressive values in Kentucky. They officially united their efforts in the fall of 2017 with a merger of the groups and announced the new name, Bluegrass Activist Alliance, on December 10, 2017.
Here is a little background on the groups.
Indivisible Bluegrass
Indivisible Bluegrass is a citizens group formed to resist the Trump agenda whenever it threatens inclusion, fairness and honesty in government. In his first few weeks in office, President Trump has packed his cabinet with unqualified and self-serving billionaires, issued a flurry of executive orders that threaten traditional American principles, cut regulations that protect our environment, upset long-standing international alliances, and launched a full-scale attack on our free press. Rather than "draining the swamp," he is putting guards around it.
Indivisible Bluegrass monitors how Members of Congress from Kentucky's Sixth Congressional District—Rep. Andy Barr, Sen. Mitch McConnell and Sen. Rand Paul—respond to this agenda. When issues arise that fly in the face of inclusion, fairness, and honesty, we make sure our representatives in Washington know of our opposition. We visit their local offices, we call their staff, we send emails, we mail post cards, we demand town meetings, we organize rallies, we march. In all these ways, we make sure they hear us, and we remind them they serve at our pleasure.
Coordination. Focus. Persistence. These principles are stressed in an online political action guide written by a group of former congressional staffers. Called Indivisible: A Practical Guide for Resisting the Trump Agenda, the guide shows concerned citizens how to turn the political tables by using the same strategies employed so effectively by the Tea Party movement against the Obama administration. Since its Internet launch in December, the guide has been viewed by over three million users and downloaded two million times. And today almost 6,000 local Indivisible groups—at least two in every Congressional district in the country—are putting its advice into action.action.

Together We Will Bluegrass
We are "Together We Will Bluegrass." We intend to carry forward the values of inclusion and action expressed through political impact, education, engagement, volunteering, and support of local organizations.
Many of us woke up the morning after the 2016 presidential election in a state of disbelief, asking ourselves, "How could this happen?" We wondered what kind of country would at least tacitly approve the hateful and dangerous rhetoric espoused in the preceding campaign and where did we fit into this new world?
Inspired by Pantsuit Nation, a small group of people turned to Facebook to reach out to those who might share their feelings of confusion and helplessness. Little did they know they were tapping into a hidden reservoir of folks who also felt like they didn't recognize their country anymore; a blossoming community of people who woke up on November 9th, 2016 and said, "This is not OK."
In association with similarly-motivated networks across the country, Together We Will Bluegrass was formed. We are an inclusive assortment of individuals encouraged to secure equity, dignity, and social justice for all Kentuckians, through engagement, education, and activism.
Whether you are currently civically active, were once active and now feel called to dip your toes back in the political water, or whether this is the first time you've been moved to make a difference in the world, there is a place for you at Together We Will Bluegrass. In the end, we all have one goal in common: to better the lives of central Kentuckians and to be the change we want to see in the world.
Join us: Like us on Facebook, follow us on Twitter, and sign up for Resistance Alerts. Read our latest Resistance Report newsletter.
Area Groups
Indivisible Bluegrass covers Kentucky's Sixth Congressional District. Within our district, smaller county groups are forming. We encourage you to support Indivisible groups in your area as well. Groups in your county/region can be an excellent way to grow the movement locally and coordinate efforts for writing postcards, carpooling to events, and other activities.
View Area Groups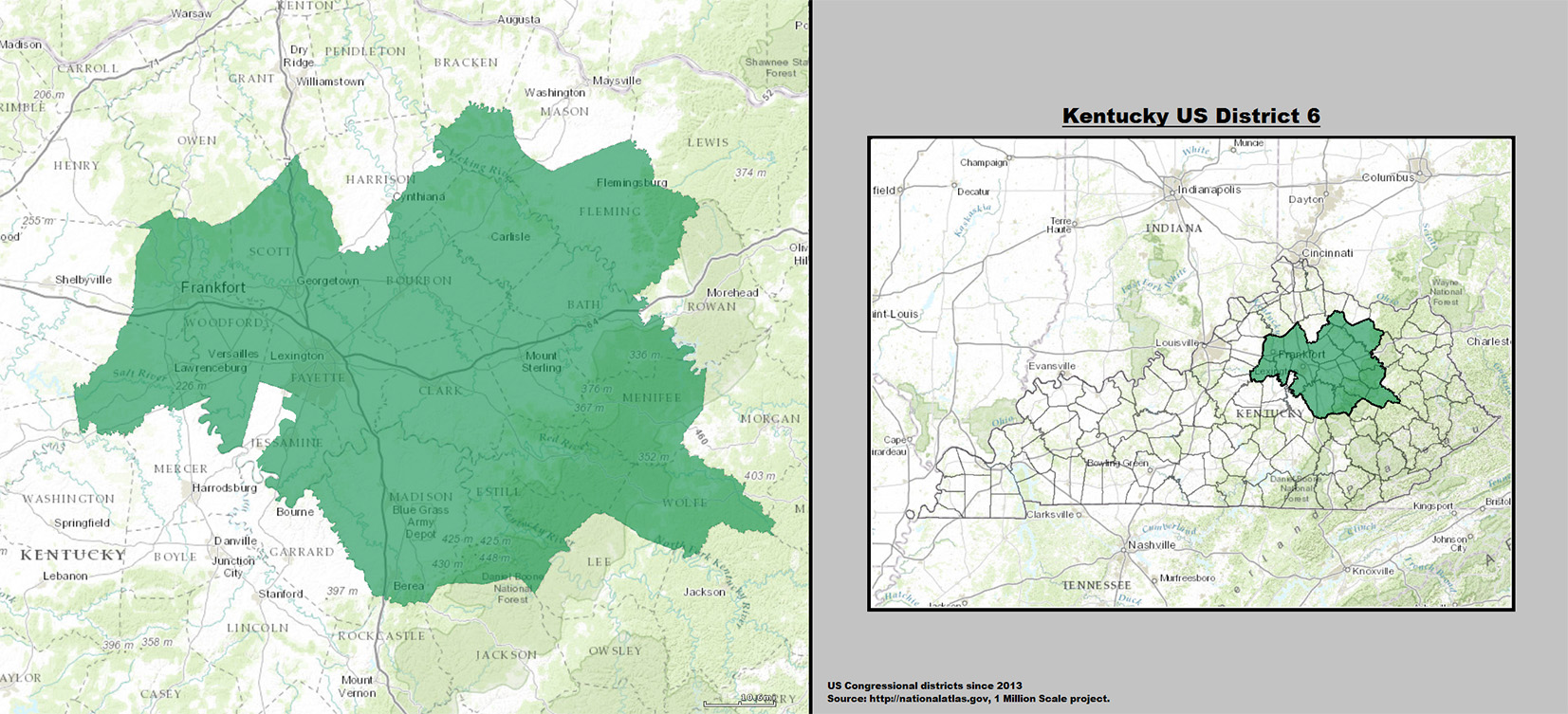 Click to view larger map.