A Newsletter of Indivisible Bluegrass
---
March 30, 2017
Empty Suits Town Hall
It was a pleasure to walk into the Kentucky Theater on Saturday, March 18, and see our members of Congress onstage, suited-up and waiting for our input (well, at least the suits were there). For an hour and a half, they listened quietly as some 150 constituents raised issues of election reform, islamophobia and anti-semitism, the environment, the Affordable Care Act, LGBTQ rights, science, religion and other topics of concern. The comments, although often critical of our Congressional members, created a positive atmosphere of community and common goals. Thanks to everyone who contributed and attended.
The theater lobby was filled with information booths set up by the organizations that attended. Among them were the National Organization for Women (NOW), Kentuckians for the Commonwealth, Indivisible Bluegrass, Planned Parenthood, Kentucky Student Environmental Coalition, Kentucky Equal Justice Center, Our Revolution and Showing Up for Racial Justice.
---
Visits to Members of Congress
Thirty Bluegrass Indivisible members met at the main branch of the Lexington Public Library on Sunday, March 26, to assess strategies for our weekly visits to our MoCs (members of Congress). The group came up with these new guidelines:
Members will discuss only one topic per visit.
We will limit our visits to 30 minutes.
We are always polite and respectful. We want our hosts to listen, and listening stops when people become offended. We always thank our hosts for their time.
We focus on facts and questions, not emotions or personal stories. Whenever possible, we localize the facts to emphasize how an issue affects people in the Sixth District.
We are knowledgeable. Before each visit, we review the relevant Talking Points posted to our web site.
We expect accountability. After each visit, the group leader sends an email to the host, repeating our requests for information on specific points made during the discussion.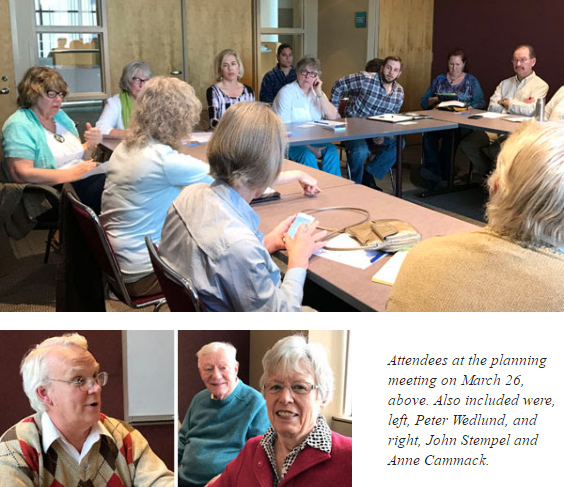 This month, groups of us numbering from three to 30 made nine visits to our MoCs' offices. The visits can be an exercise in persistence because we often get little response while we are there, and the MoC rarely responds to questions we leave for him with the staffer. That said, we need only look at the big picture to realize that our visits, along with our barrage of calls, faxes, marches, postcards etc., are definitely making an impact.
Persistent weekly visits to our MoCs is a key element of the nationwide resistance movement against the Trump agenda. The blueprint for the movement is laid out in the Indivisible Guide, an online document in which former Congressional aides explain how progressives can use the successful tactics of the Tea Party to resist the current Administration. Since the guide was released in December, it has sparked a groundswell of resistance. More than three million users have visited the site, two million have downloaded the guide, and almost 6,000 local Indivisible groups – at least two in every Congressional district in the country – have formed to put the guide's advice into action.
Our weekly visits are part of that groundswell, and the defeat of the Republican health care replacement bill last week is dramatic testimony to the fact that our resistance is working.
To join our visits, see our weekly Alerts for details or contact Rita Salzberg.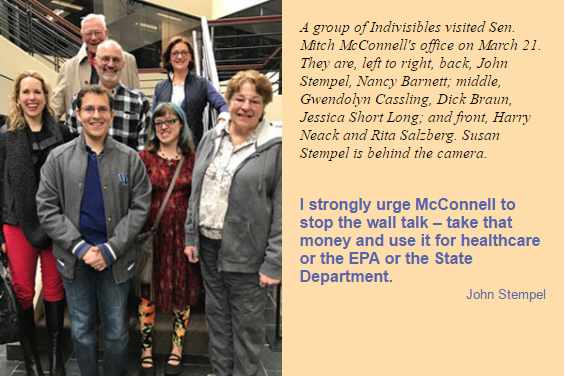 ---
Save our ACA
About a dozen Indivisible Bluegrass members braved a cold, wet afternoon on Friday, March 17, to affirm their support for the Affordable Care Act at a rally in front of Central Baptist Hospital on Nicholasville Road in Lexington. All three local TV stations covered the event. There were a few thumbs-down reactions from people driving by at rush hour, but far more supportive honks, cheers, and thumbs-up greeted the group's soggy signs.
---
Upcoming Events
GENERAL MEMBERSHIP MEETING
Sun., April 2 @ 4 – 6 pm, Unitarian-Universalist Church, 3564 Clays Mill Rd., Lexington
PROTEST MUSIC SIT-IN
Wed, April 5 @ 7 pm – midnight, The Burl, 375 Thompson Rd., Lexington
RALLY AGAINST BARR'S SUPPORT OF TRUMP
Wed., April 12 @ 11 am – 2 pm, Triangle Park, Lexington
The rally will take place while Barr is speaking about Trump policies at a ticket-only luncheon meeting of Commerce Lexington in the Hyatt Regency across the street from the park. Watch our Alerts for more information.
TAX MARCH – LEXINGTON
Sat., April 15 @ 2 – 3:30 pm, Fayette Circuit Court, Lexington
LEXINGTON MARCH FOR SCIENCE
Sat., April 22 @ 1 – 5 pm, Fayette Circuit Court, Lexington
For more information about these and other Indivisible Bluegrass events, read our weekly alerts and visit our website.