---
November 9, 2017
Indivisible, Together We Will Unite
The leadership of Indivisible Bluegrass and Together We Will (TWW) Bluegrass has combined into one powerful organization. The announcement was made to members on Sunday during a live stream via Facebook.
"In only a year, our groups have grown from just ideas into what is now a combined membership of over 5,000 people," said Julie Martinez, chair of TWW Bluegrass. "By merging, we are moving into 2018 as an organized and formidable force for change in Lexington, central Kentucky and the Commonwealth."
Both groups formed shortly after the 2016 election: TWW in November and Indivisible in February. The new organization will be one of 6,000 Indivisible chapters nationwide, with all the national support and involvement that implies.
"In the last year, Indivisible and TWW have collaborated on many projects," said Jane Eller, Indivisible Bluegrass steering committee chair. "We have co-sponsored events, shared Facebook posts, and worked together on issues at the national, state and local level. This is not a shotgun marriage!"
"On Tuesday, we saw the beginning of a national Democratic sweep, with the gubernatorial wins in New Jersey and Virginia," Martinez added. "The tide is turning, with grassroots groups like ours leading the way."
Currently, TWW Bluegrass has 4,600 Facebook followers and Indivisible Bluegrass has 2,630.
The merger plan includes combining websites, Facebook groups, and email lists. Leaders of the groups will develop a new organization chart, mission statement and logo. Several options for a new name will be put to members for a vote.
"We will become stronger and more effective by pooling resources, people and commitment," Eller said. "But more importantly, we are setting an example that progressive groups need to work together to make change happen."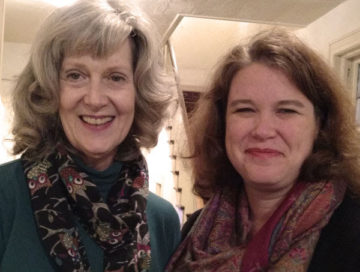 Jane Eller of Indivisible Bluegrass, left, and Julie Martinez of Together We Will Bluegrass agree the merger will strengthen both groups.
If you want to go fast, go alone.
If you want to go far, go together.
– African Prover
---
Gearing Up To Turn Out The Vote in 2018
Now is the time to begin educating and registering voters to ensure a robust Democratic voter turnout in Kentucky's Sixth District mid-term Congressional election next November.
That was the common message from Democratic leaders who spoke at a "Countdown to 2018" gathering on Tuesday evening at the Shiloh Baptist Church in downtown Lexington. The event drew more than 200 attendees.
"In Kentucky, we have the mid-terms in 2018, the governor's race in 2019, and the presidential race in 2020," KY Rep. George Brown, Jr. told the audience. "As voters, we must make sure that elected officials who are voting against our interests feel our wrath."
The right to vote is the "greatest equalizer we have, and yet many Kentuckians are not exercising this right," Kentucky Secretary of State Alison Lundergan Grimes said. "In our 2015 general election, we had only a 30 percent voter turnout. That means a minority of citizens decided who governs the majority of us."
She warned that obstacles to voter turnout, such as overly strict voter ID requirements and gerrymandering, are increasing across the country. "There are currently 100 bills in 30 states seeking to make it harder for people to get to the ballot boxes," she said. "The march for voting rights is far from over."
Grimes said that she hopes Kentucky's recently redesigned online registration site, which is easily accessed on smartphones or tablets, will encourage more young people to register before next year's mid-term. The site is GoVoteKY.com.
The event was sponsored by the Commonwealth Coalition, which represents more than a dozen progressive groups working together in the Sixth District.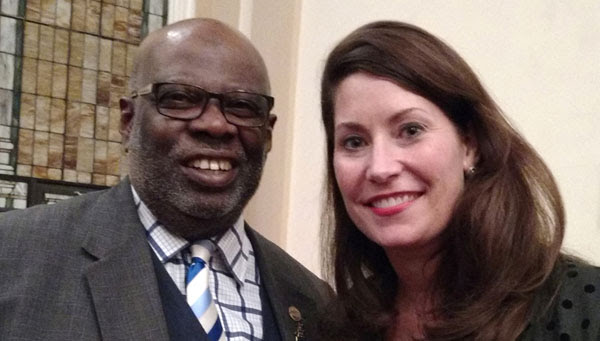 State Rep. George Brown Jr. and Secretary of State Alison Lundergan Grimes urge all Democrats to help get out the vote.
---

With this article we introduce a new monthly feature highlighting Indivisible Bluegrass and Together We Will Bluegrass members who are giving their time, talents and energy in the pursuit of fair, compassionate and honest government.
BACKGROUND: Neack has an undergraduate degree political science from the University of Kentucky and a master's degree in legislative affairs from George Washington University. He has worked in a variety of paid and unpaid political jobs, in which he canvassed voters, organized volunteers, did data entry, and scheduled events for candidates. In 2016, he was a paid organizer for Hillary Clinton's campaign in North Carolina. He and his wife, Sarah Tibbs, have been Indivisible members since the group formed in February of this year.
INDIVISIBLE ACTIVITIES: "As Outreach Chair, I contact other progressive organizations in the District to inform them about Indivisible and suggest ways to collaborate on common goals. As we head into the 2018 mid-term, we all need to be engaged together."
BIGGEST CHALLENGE: "The biggest hurdle in political work is getting the different groups to pull together. Here in the Sixth District, the Kentucky Coalition has made great progress in uniting more than a dozen progressive groups. As an organizer, that thrills me."
ISSUE MOST PASSIONATE ABOUT: "Women's rights. The misogyny in the 2016 campaign was horrible, sexual harassment is all over the news, and our president is an admitted sexual predator. Discrimination against women is far from over."
LAST WORD: "I had thought of 'retiring' from the official side of campaigning after the 2016 election, but that loss, and the fact that the current Administration is dragging our country backwards, changed things for me. Fighting for progressive values has never been more important, and I want to continue to be part of that fight."
---
For information on upcoming events, go to the Events page of our web site.