---
December 20, 2017
The Bluegrass Activist Alliance is Born
Some of the people gathered in the Unitarian Universalist Church on Sunday, Dec. 10, were members of Indivisible Bluegrass. Some were members of Together We Will Bluegrass. Some were members of both.
"I want to welcome all of you to our combined meeting," said Jane Eller, chair of the Indivisible group. Less than a half hour later, everyone belonged to a new, merged group called Bluegrass Activist Alliance.
The merger had been announced last month. The new name, chosen in an online vote by members of both groups, was announced in dramatic fashion when people were given letters spelling out the new name and told to arrange themselves for the "name reveal."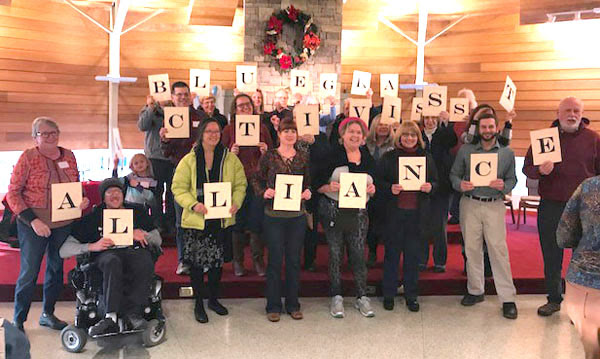 Members spell out our new name at the Dec. 10 meeting.
Eller is co-chair of the new group with Julie Martinez, who had led Together We Will.
Martinez said that, for months, she and Eller had been conferring and planning the same kinds of resistance actions. It happened so many times that they decided it would be better to go forward together.
"There are many things that are better about being together," she said. "We are stronger, we're more people, and more voices can be louder when we work together."
Martinez also said the merger countered the idea that liberals and progressives have a hard time cooperating.
Eller agreed. "For me, the most important thing is not just to save time and work by not duplicating, but to set an example that progressive groups can work together, and that we should," she said.
Together We Will has previously worked mostly on state and local issues, while Indivisible focused on national matters. The new group will cover the spectrum.
---
Alliance Reaches Out Across District
The Bluegrass Activist Alliance will reach out to progressives in all 19 counties of Kentucky's Sixth Congressional District over the next several months.
Outreach Committee Chair Harry Neack hopes to establish groups of five to ten people in each county. He and other Alliance volunteers will visit with Democratic officials, labor unions, Sierra Club chapters, student organizations and other progressive groups.
Many progressives in other counties are unable to travel to Lexington to attend meetings. Alliance leaders will keep them in the loop by live streaming meetings and making weekly phone calls.
The Alliance will need a district-wide network to help elect a Democrat to Congress in next year's mid-term election, but Neack said the goal of this effort is broader than that.
"We want to let all progressives in the district know that they are not alone," he said. "We want to tell them about the Alliance, and to ask them to join us. Ultimately, we hope to make a difference at all levels of government in the district."
To date, progressives in the Greater Lexington area have had little communication with like-minded people in the outlying counties.
If you'd like to help with this effort, contact Neack.
---

BACKGROUND
Julie Martinez, co-chair of the new Bluegrass Activist Alliance, is Director of Marketing and Communications at Transylvania University. She has worked for over 20 years in marketing, video documentary production and public relations. A graduate from college, she lived in California before returning to Kentucky in 2008 with her family.
ACTIVISM
Julie became a dedicated activist on Nov. 9, 2016. Feeling defeated and angry by the results of the election, she started a Facebook group that grew exponentially overnight. She discovered that people all around her were looking for opportunities to take action and that she could be a conduit for many to become engaged in political and social activism.
Another important date for her was the Jan. 20 Women's March. "I debated whether to go to DC or participate in the Women's March here in Lexington, and I decided to join the movement here at home, where my children, a 10-year-old son and a 12-year-old daughter, could be part of it. The march was inspiring to me, and it solidified my commitment to becoming an activist."
BIGGEST CHALLENGE:
"In our current political environment, it is easy for us to become exhausted. We must guard against becoming paralyzed by doubt and a sense of meaningless. Every day we must choose to fight back and, bit by bit, we will change our state and nation."
MOST PASSIONATE ABOUT
"Health care is at the top of my list, as well as women's issues. And there's education; I want to create change to make the world better for my children. But by no means are those the only priorities for me."
LAST WORD
"The greatest lesson I have learned since November 2016 is that I must make the change that I want to see in the world. It is not enough to simply be on the sidelines with a vote here and a donation there. My voice is powerful and I will not be silenced. I'm immensely thankful for all those who are standing with me in this fight as part of this group, and I can't wait to see the impact we will make in 2018."
---
Progressives Leave Big Footprint in Alabama
Want to get energized for the 2018 mid-term?
The current New Yorker magazine contains an inspiring article about how Indivisible and other progressive groups in Alabama helped propel Democrat Doug Jones to his remarkable victory in this month's special U.S. senate race there.
The Bluegrass Action Alliance remains part of the national Indivisible network.
The article points out that the level of hands-on help that the national Indivisible staff is able to offer local chapters has grown dramatically this year. In the Alabama race, Indivisible sent three paid staffers there for a week, paid for an app used by local groups, and trained volunteers on it.
Click here to read how Alabama progressives pulled off their victory and to learn how we can repeat their success in the Sixth District in 2018!
---
Are You a Writer?
We Need You!
The Bluegrass Activist Alliance needs people with professional writing experience to help us produce easy-to-read fact sheets on the important issues of the day. The fact sheets, which will be based on our comprehensive research reports, will be used to educate the public, particularly during next year's mid-term election. Contact: Peter Wedlund
---
Facebook Pages Being Combined
As a result of their merger as the Bluegrass Activist Alliance, Indivisible Bluegrass and Together We Will (TWW) Bluegrass are combining their Facebook pages. Indivisible Bluegrass (Indivisible in the Sixth) has locked its private group, and is asking members to join the merged private group, formerly the TWW Bluegrass private group.
To find out if you are in the merged private group, search for "Bluegrass Activist Alliance (tww bluegrass & indivisible bluegrass)" on Facebook. If you get a result, you are in the group. People who are not members of the group cannot find it.
We encourage you to "like" the Alliance's public Facebook page. To join the private group, click the blue "Send Message" button on the right under the banner on the Alliance's public page and ask to join.
---
Letters Campaign Making Progress
We are making great progress in our effort to encourage people to write letters to the editor of their local newspapers, telling their own story about how Rep. Andy Barr's actions are hurting the Sixth District.
Lois Gillespie, who is spearheading the project, and Bluegrass Activist Alliance co-chair Jane Eller have gone to ten Democratic executive committee meetings since October. They have 58 participants from eight counties. They are planning to visit others.
The goal is to have 100 letters to the editor written in the next year. So far, four have been published. If you are interested in writing a letter, contact Gillespie.
---
Upcoming Events
BLUEGRASS ACTION ALLIANCE MEMBERSHIP MEETING
Sunday, Jan. 14, 3-5 p.m., Temple Adath Israel, 124 N. Ashland Ave., Lexington. More details to come.
For more information on these and other Bluegrass Activist Alliance events, go to the Events page of our web site.