---
December 1, 2017
Resisters Rally to Protest Trump's Tax Scam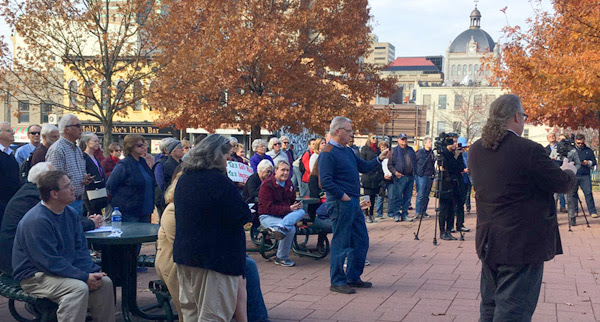 More than one hundred resisters rallied at the Fayette County Courthouse on Wednesday, Nov. 29, to protest the proposed Trump Tax Scam.
Organized by progressive activist Sellus Wilder, the rally attracted politicians, religious leaders, and everyday Kentuckians who oppose this "gift" of massive tax breaks to the wealthy at the expense of poor and middle-class Americans.
Speakers included State Senator Reggie Thomas and Rev. Clark Williams, head of The People's Campaign, both of whom pointed out the Robin-Hood-in-reverse nature of the Republican tax bill. "There's nothing conservative and nothing Christian in this bill," said Rev. Clark. "It makes the rich richer, the poor poorer, and places the deficit on the backs of our children and our children's children."
Kelly Smith, speaking on behalf of Kentuckians for the Commonwealth, said the bill would harm Kentucky's already overstretched higher education system. "We've already seen rises in tuition, and student loan debt has quadrupled in the last 40 years," she said. "Both would rise sharply if the bill were to pass."
The Republican bill attacks the Affordable Care Act and would result in 180,000 Kentuckians losing their health coverage, Julie Martinez of Together We Will Bluegrass pointed out. "There is no reason to believe that our country is made great by crushing the less fortunate!" she said.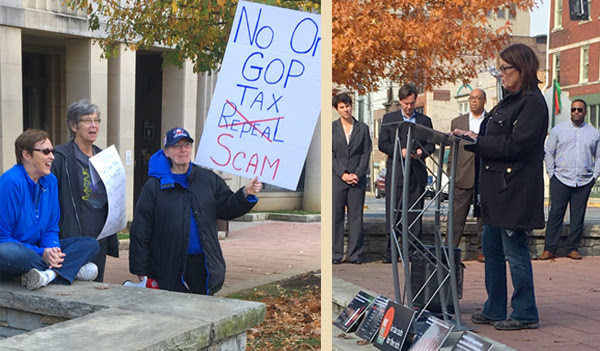 Left: Georgetown residents, left to right, Anne Flynn, Ava Crow and Jody Lambert were at the rally to make their voices heard. Right: Sharon Fleck from Louisville-based Indivisible Kentucky spoke at the rally.
---
Progressives Can Look Back On Wins
Obamacare repeal. A border wall. A Muslim Ban. Donald Trump's racist and angry agenda seemed unstoppable this time last year, with Republicans in control of the White House, the Senate and the House.
But then millions of progressives across the country organized into hundreds of groups like Indivisible Bluegrass and Together We Will Bluegrass to fight for the traditional American values of inclusion, fairness and honesty in government. By working together, we have done the impossible in the last 12 months:
We have put steady, consistent pressure on Members of Congress and forced nearly a dozen high-profile "safe" Republican politicians to retire.
We organized town halls to help . Twice.
Our influence helped bring about stunning Democratic political victories in November in New Jersey, Virginia and a half dozen other states.
Seven Indivisible leaders from five states were elected to public office.
We partnered with other progressive groups. In Kentucky, Indivisible Bluegrass and Together We Will Bluegrass merged last month. (Our new joint name and logo will be announced shortly.)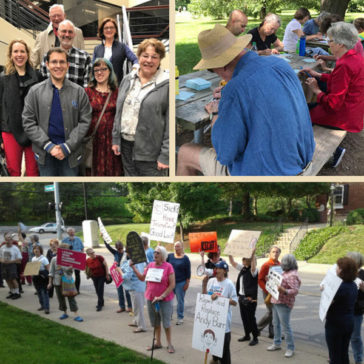 This year, Indivisible Bluegrass maintained steady pressure on our Members of Congress by rallying outside their speeches (bottom), visiting their offices regularly (top left), and sending them a continuous stream of postcards (top right).
Looking ahead to the 2018 mid-term elections, the national Indivisible team has launched its Indivisible435 campaign, which will:
Provide tools, trainings, and proven strategies to local Indivisible groups and their partners.
Help progressives expand into areas where their presence has been weak or non-existent, especially in red districts and rural areas.
Help communities that have been politically underrepresented, such as African Americans and Latinos, fight attempts at voter suppression.
The progressive movement across the country is energized, locally-led, and unapologetic in rejecting the Trump brand of hate and fear-mongering. The stage is set for a wave of Democratic victories in 2018 and beyond!
---
New Fact Sheets Will Educate Voters
Some current issues, while vitally important to our democracy, are so complex that our eyes start to cross trying to understand all sides of the arguments. Those of us who are not policy wonks might be tempted to give up and just let the politicians handle things.
Bad move. It's never been more important for the public to know the truth about what's going on in Washington.
In an effort to educate voters about the real facts on a range of issues―as opposed to the Trump Camp's "alternative facts" — Indivisible Bluegrass has introduced a series of easy-to-read fact sheets.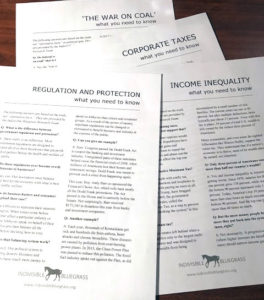 The fact sheets are in Q&A format. None are longer than two pages. They are based on one or more of the comprehensive reports compiled by our crack Research Committee, and each one tells readers how to access the full report(s) on which it is based.
We have published four of the new fact sheets on our website. The topics are Income Inequality, Corporate Taxation, Regulations and Protections, and the "War on Coal." More fact sheets will come. They can be used as hand-outs at meetings, campaign rallies, and other events.
To view the ones that are posted, click here.
---
Our Alerts Will Soon Reflect Merger
Starting in January, the Alert emails you receive from us will reflect the priorities of both Indivisible Bluegrass and Together We Will (TWW) Bluegrass. Before the two groups merged last month, Indivisible focused primarily on national issues, while TWW involved itself with local and state matters, especially during the legislative session in Frankfort (January through March).

BACKGROUND: As owner of a high-end hair salon in Lexington for 34 years, Nancy was instrumental in changing antiquated industry regulations early in her career. Her salon was the first to have computers and the first to ban smoking. In 2004, Nancy received the Woman Business Owner of the Year award from the National Association of Women Business Owners.
INDIVISIBLE ACTIVITIES: Nancy's activism began with the Women's March in January. She joined Indivisible the next month. She has been an active participant in the visits to the office of Sen. Mitch McConnell and Rep. Andy Barr, and she has met with the Communications Director for Sen. Rand Paul. She has attended rallies and town hall meetings to oppose the current administration, and compiled a list of Sixth District media contacts for our Communications Committee. Nancy also hosted a dinner for Indivisible members to encourage social interaction among members.
BIGGEST CHALLENGE: "The biggest challenge is to inspire civic engagement. The current administration daily attacks our representative democracy, and the response to these activities requires all hands on deck."
ISSUE MOST PASSIONATE ABOUT: "I am most concerned about the current assault on the environment and the natural world. Many animal species are lost every year due to habitat destruction and climate change. By 2050 it is estimated that there could be more plastic than fish in the ocean. Ninety-seven percent of climate scientists agree that climate change trends are very likely due to human activity."
LAST WORD: "The daily transgressions of the Trump White House require action by everyone. If we desire a country that is indeed a more perfect union, with the establishment of justice for all and domestic tranquility, we cannot stand silent."
---
Upcoming Events
CELEBRATE
Sunday, Dec. 10, 4-6 p.m., Unitarian Universalist Church, 3564 Clays Mill Road, Lexington. Come help us celebrate the merger of Indivisible Bluegrass and Together We Will Bluegrass. We will sing resistance songs, share food and enjoy conversation. If you are able, bring a dozen cookies to share and/or a new or lightly used book for children staying at the Nest, a local safe house for families in crisis.
For information on upcoming events, go to the Events page of our web site.