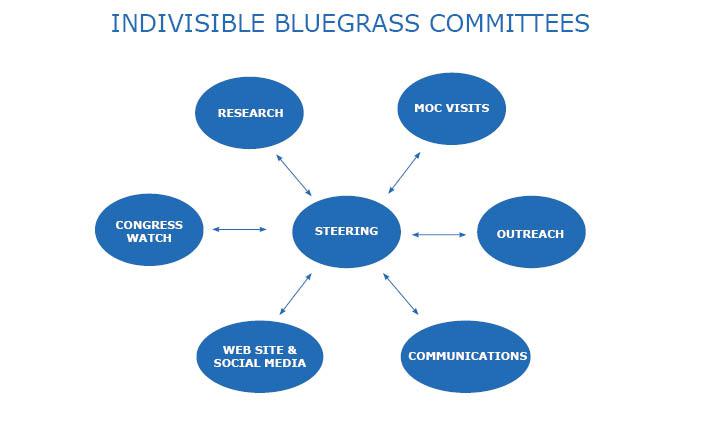 Indivisible Bluegrass is composed of a Steering Committee and six other teams. Here is a summary of their responsibilities and goals.
Steering
Provides direction and sets overall priorities of group.
Plans events and activities.
Oversees activities of other committees.
Serves as liaison with national Indivisible and other Indivisible groups in Kentucky.
Alerts members to upcoming events, calls for action, key issues in Congress, and news from national Indivisible.
Research
Studies and analyzes legislative actions and statements of our members of Congress and the Trump administration on a wide array of issues.
Produces detailed synopses and questions on specific issues for use by our members, especially the MOC Visits Committee.
Produces more detailed reports for those who want a deeper dive into the issues. These reports are based on academic papers, journals, case studies, government reports and other credible sources, all clearly referenced.
Congress Watcher
Closely monitors our members of Congress by studying their public statements, legislative calendars, activities, voting records and funding sources to identify information that is relevant to issues under debate. Gathers this data principally through the members' websites and social media accounts and calls to their offices.
Passes on relevant information to the Research, Steering and MOC Visits committees.
MoC Visits
Makes monthly visits to the local offices of our members of Congress to meet with the staff member in charge.
Focuses on topics that are recommended by the national Indivisible group.
Bases the discussions on synopses and questions provided by our Research committee.
Oversees a group of trained Indivisible members who are committed to attending the meetings on a regular basis and who serve as visit leaders.
Outreach
Reaches out to other local organizations with similar goals to network and explore new collaborations on projects and events.
Recruits new members by speaking to individuals and citizen groups about the goals, scope and activities of indivisible Bluegrass.
Website and Social Media
Maintains our website, Facebook public and closed group pages, and Twitter account.
Creates, manages, and promotes Facebook events for rallies, protests, office visits, and meetings.
Monitors member behavior in the Facebook public and closed group pages.
Provides information and updates through the website, Facebook, and Twitter.
Serves as social media coordinator with other groups.
Assists with MailChimp and Survey Monkey efforts.
Provides technical support to members needing help with tools and programs.
Communications
Sends out advisories and press releases to media outlets within the Sixth District.
Handles media requests for interviews with Indivisible spokespeople.
Produces an email newsletter for members twice a month.
Crafts messages for our website, Q&A, and other communication pieces.