---
September 25, 2017
Organizer Tells Chapters To Keep The Faith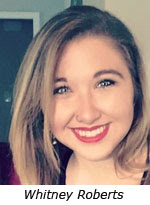 As constituents of two of Washington's most high-profile Republican senators, Kentuckians enjoy a unique opportunity to impact national politics through the power of our vote. And in the world of politics, elected officials ignore their constituents at their own peril.
At least that's the theory of Whitney Roberts, Indivisible's South East Organizer. "I often hear from people in other states who are eager to write to McConnell and Paul about healthcare, taxes and other issues," she says. "I tell them to leave that to Kentuckians, who are already doing a good job of it."
Roberts, who is based at national Indivisible in Washington, D.C., oversees more than 690 Indivisible chapters in seven states, including 15 in Kentucky.
On the job since April, she helps chapter leaders set goals and plan strategies, conduct activities, adapt to new challenges, network with other chapters, and keep up member morale.
Each chapter is unique, she says, but there are common challenges that many of them face. One is burnout.
"I've had leaders tell me they feel like they are banging their head against the wall on issues like health care and immigration," she says. "After nine months of this administration, they say it's difficult to keep the level of resistance passionate and that their members want to do more positive things."
Roberts advises her chapters to look to their own communities for opportunities to make positive changes. The Gainesville, FL, chapter, for example, worked with a local group called Black Men United to donate 130 new backpacks of school supplies to low-income students.
"That was something that produced a clear result and made everyone feel good," she says. "Small local successes will help members stay motivated for when it's time to act on the larger issues."
One of those larger issues is next year's mid-term Congressional elections. Roberts says that many districts, including Kentucky's Sixth, are definitely flippable, but only if progressives work hard and keep the faith.
"Any district, even in the deep red south, can be turned," she says. "Trump is an unpopular president and his support among Republicans is declining. The numbers are there for Democratic victories next year."
Roberts hopes to visit Kentucky's Indivisible chapters before the end of the year.
---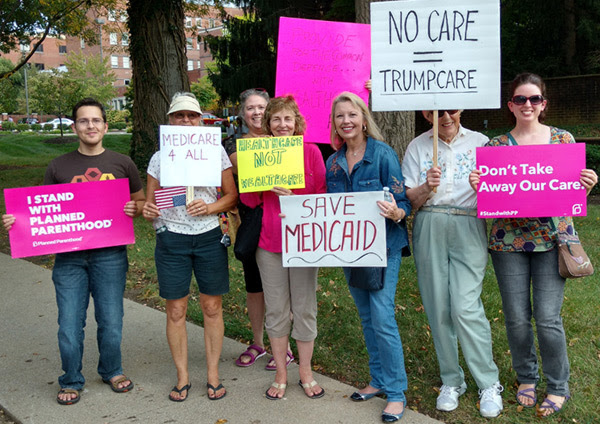 Protestors Say Trumpcare is No Care
Scores of passers-by honked horns and gave the thumbs-up sign to some 30 marchers in front of Central Baptist Hospital on Thursday, Sept. 21, during a Protest for Heath Care rally. The marchers carried signs opposing the Republicans' latest health care bill, which would destabilize health insurance markets, weaken Medicaid and Medicare, and decrease access to affordable coverage and care for millions of Americans. The protest was sponsored by Indivisible Bluegrass. Among the other groups represented were Together We Will Bluegrass, our Revolution, Together Frankfort, and Planned Parenthood.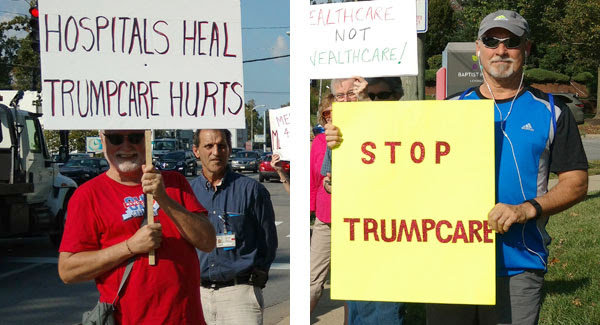 ---
No, Congressmen, We Won't Go Away
Each month, members of Indivisible Bluegrass walk into the Lexington offices of U.S. Sen. Mitch McConnell and Rep. Andy Barr armed with questions about important issues facing Congress and the nation. (Because he has no local office, Sen. Rand Paul's questions are mailed to Washington.) We ask specific questions based on their speeches and voting and legislation records.
Their young, unfailingly polite staff members listen to the questions, and sometimes answer with their boss's standard lines. But the Indivisible members don't settle for those. And the staffers often are taken aback by the depth of the questions and the research behind them.
For that, you can thank the group's research committee, which includes retired university professors, lawyers, diplomats, a student, a retired policewoman and others.
Peter Wedlund, the committee's chair, says the questions and corresponding issue reports are based on reliable sources, such as the New York Times, Washington Post, National Public Radio and The Economist.
The committee has asked questions on health care, the environment, foreign policy, and regulations. Questions this month focused on taxation.
Officials are asked to respond in 30 days. They seldom do.
"I think they keep hoping we will go away," Wedlund says.
The committee plans to start a letters-to-the-editors campaign to let the public know what our elected officials are not willing to answer.
Indivisible Bluegrass shares research reports with other Indivisible chapters and local Democratic candidates. The reports also are available on the research page of our website.
---
"Group of Groups" Acts As Clearinghouse
"As the cliché goes, getting progressives on the same page is like herding cats," says Trent Garrison. He has done just that by organizing a dozen local groups into a coalition that acts as a clearinghouse for information and coordinated action in Kentucky's Sixth Congressional District.
"The current political landscape has led to collaboration among groups which would not otherwise have pulled together," explains Garrison, who is the Networking Chair for Together We Will Bluegrass. "We are now working with organizations with whom some of us had little contact before, especially so in the minority community. The thing that unites us all is a shared desire for accountable government on the local, state and national level."
The coalition includes Together We Will Bluegrass, Indivisible Bluegrass, Kentucky Democratic Party, Fayette County Democratic Party, Our Revolution–Central Kentucky, The People's Campaign, National Organization for Women, Lexington Fairness, and other allied groups in Central Kentucky.
Back in March, when resistance to the Trump agenda was at a fever pitch, "there were a dozen different progressive groups in the Sixth District organizing similar events," Garrison says. "We saw a lot of duplication of efforts so we decided to create a 'group of groups' to better coordinate."
The coalition is not a separate group in its own right, he says. "We see ourselves more as the glue between existing groups."
In the wake of the deadly white supremacist rally in Charlottesville, VA, in August, the coalition successfully supported Lexington Mayor Jim Gray's recommendation that the city move two statues of prominent Kentucky Confederates―Secretary of War John C. Breckenridge and General John Hunt Morgan―from the old downtown courthouse to the Lexington Cemetery.
"We had an emergency meeting and within 48 hours, all of our groups agreed to support the move," says Garrison. The City Council voted unanimously to relocate the statues.
For more information about the coalition, contact Garrison.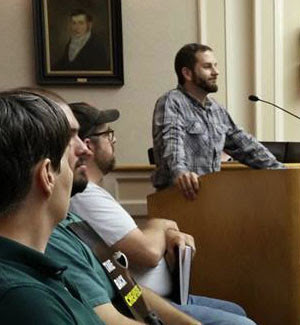 "The thing that unites us all is a shared desire for accountable government on the local, state and national level." – Trent Garrison

Trent Garrison represented the coalition on Aug. 17 when he spoke at the "Take Back Cheapside" city council hearing.
---
Considering The Issues In a Calm, Thoughtful Setting
The mood was thoughtful and earnest as eight progressive-minded people gathered in a meeting room of the downtown Lexington Public Library on Sept. 13 to discuss why so many Americans voted for Donald Trump in November.
The occasion was the first meeting of Indivisible Bluegrass's new monthly study group. Participants based their discussion on the book, Strangers in Their Own Land, by Arlie Hochschild.
Steering Committee Chair Jane Eller started the group "as a way for our members to learn about political and social issues in a calm and thoughtful setting," she says.
Hochschild, a sociologist who spent five years studying Tea Party supporters in Louisiana, theorizes that many Trump supporters feel alienated because of flat or falling wages, rapid demographic change, and a liberal culture that mocks their faith and patriotism. She writes that many conservative white Americans believe that "others" (African Americans and immigrants) are cutting in line ahead of them as the federal government takes money from the workers and gives it to the idle.
A lively discussion followed as to why conservatives see society one way while progressives see it another way entirely.
"I clearly don't understand the divide," says Julie Mason, one of the participants. "I have two sisters and a brother-in-law who voted for Trump and I value my relationships with them. I want to understand them better, but I also want to express my own beliefs in a controlled way. I found this discussion really helpful."
The group next meets on Wednesday, Oct. 18, at the Tates Creek Library (see Upcoming Events below).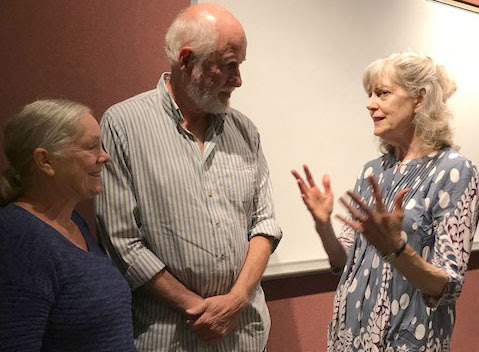 Jane Eller, right, spoke with Michael and Julie Mason at the study group.
---
Members Share Good Food, Good Talk
A series of potluck suppers, organized by zip code and held in private homes, is giving Indivisible Bluegrass members new opportunities to socialize with fellow members and to discuss common concerns in a relaxed atmosphere.
"Currently, 'Postcards in the Park' is one of the few activities at which our members can socialize," explains Colleen Bellas, an Indivisible Bluegrass board member and organizer of the suppers. "But Postcards will end with the warm weather, so the suppers are another way for members to get together face-to-face in a convivial setting."
(Postcards in the Park is a monthly gathering at which members write postcards to our Members of Congress. See Upcoming Events below.)
Members who serve as hosts for the suppers provide drinks, while guests are asked to bring a dish to share. All members who have provided Indivisible with their zip code receive email invitations to suppers in their area.
Invitations have gone out for five suppers this fall, three of which have already taken place. Upcoming suppers include one on Sept. 30 in zip code 40503, and two on Sept. 30 and Oct. 7, both in zip code 40503.
Members are welcome to attend any supper, regardless of zip code, and to bring a friend, Bellas says. "We always like to meet new people and to grow Indivisible."
If you would like to attend and did not receive an invitation, contact Bellas.
---
Member Alert
All of you reading this newsletter are already among our 538 Indivisible Bluegrass members. We know there are thousands more Central Kentuckians who share our commitment to honest, fair and inclusive government, but who have not yet joined us. Please urge your like-minded friends and family members to go to our website and join so they can receive our alerts newsletters! As you already know, the time to stand up and be counted is NOW!
---
Upcoming Events
Postcards in the Park
Sunday, Oct. 1, 2-4 p.m., UK Arboretum, 500 Alumni Dr., Lexington. Join us as we write to our members of Congress on issues of our choice. Postcards are provided and are sent together to our Congressmen. We gather at the picnic tables to the right of the Visitors Center. Dogs and children welcome.
Joint Membership Meeting
Sunday, Oct. 8, 2-4 p.m., A joint membership meeting of Indivisible Bluegrass and Together We Will Bluegrass. Location and speakers to be announced.
Indivisible Study Group
Wednesday, Oct. 18, 7 p.m., Tates Creek Library, 3628 Walden Dr., Lexington. The group will discuss Democracy In Chains by Nancy MacLean. Contact Jane Eller if you plan to attend.
For more information on these and other Indivisible Bluegrass events, go to the Events page of our web site.