A Newsletter of Indivisible Bluegrass
---
May 11, 2017
Hundreds protest Barr's support of AHCA
Some two hundred demonstrators on Tuesday evening gathered outside the University of Kentucky Hilary J. Boone Center while Barr spoke inside at a private meeting of the Lexington Medical Society.
The group, protesting Barr's support of the American Health Care Act (AHCA), chanted "We'll remember in November" and "Shame on you, Andy Barr." They filled the center's courtyard and marched around the building as local TV stations filmed them. Many passing drivers honked their support and gave them the thumbs up sign.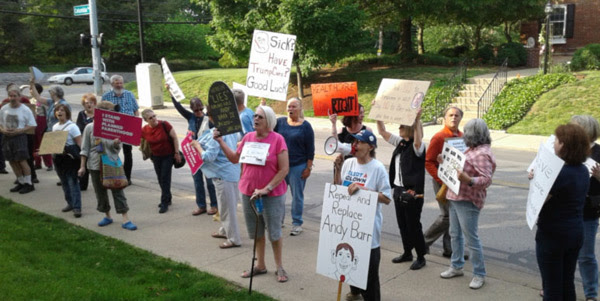 Public disapproval of the AHCA has been boiling over since the Republicans rushed the bill through the House last week, without benefit of hearings, debate or analysis, and soon after, were photographed celebrating their big "win" with President Trump at the White House. Their trophy? A bill that will take health care away from tens of millions of poor, elderly and sick Americans while giving tax large breaks to the rich.
One protester Tuesday night was 81-year-old Ann Harper, who carried a sign saying she has been a registered Republican for 52 years but plans to vote for Democrats from now on. "I oppose this president and most of the things the Republicans are doing, especially this healthcare bill," she said. "I have great health insurance myself, but my daughter, who has several serious pre-existing conditions, has Obamacare. I am here because I am anxious for her and the millions like her."
Marilyn Burkle, 61, showed up to protest because she has been getting chemotherapy for her stage four breast cancer under Obamacare and is fearful of losing it. "My treatment has kept me healthy," she said. "Without Obamacare, who will insure me? I won't be eligible for Medicare for another four years. I will die a whole lot sooner than I have to."
If Obamacare is repealed, poor states like Kentucky will be hit the hardest, Indivisible Bluegrass Steering Committee Chair Jane Eller said. "Republicans want to shift health care back to the states. If they succeed, what will happen in poor states like Kentucky, where there are millions of people with serious health conditions? All these people, especially the poor, the elderly and those with pre-existing conditions, will be thrown to the wolves."
Tuesday's protest was sponsored by the National Organization for Women and Together We Will. It was promoted by Indivisible Bluegrass and many other local organizations.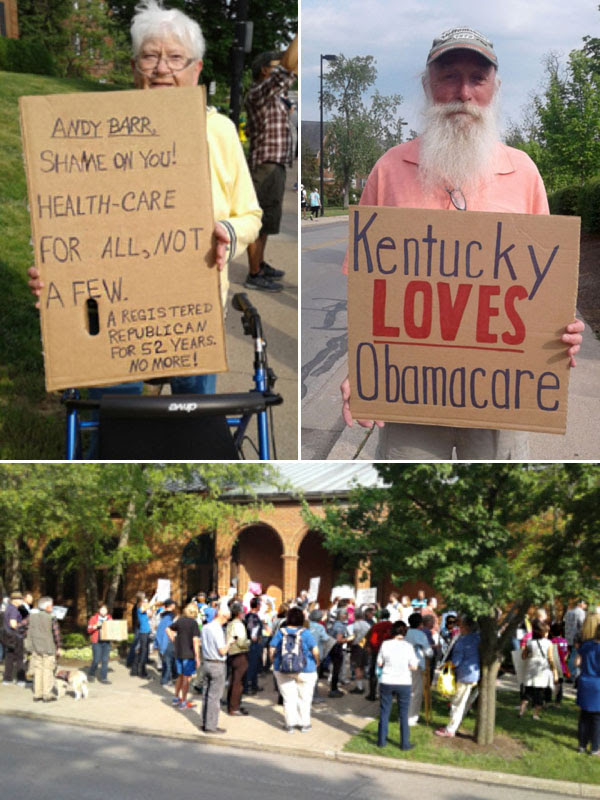 Clockwise from top left: Ann Harper; Mark Christensen, husband of Marilyn Burkle who is being treated for stage 4 breast cancer under Obamacare; Protesters gather in courtyard of Boone Center as guests arrive.
---
We're stronger together
In Central Kentucky, a dozen or more grass-roots political action groups working to promote honesty, fairness and inclusiveness in government have formed the Kentucky Coalition Planning Group. The goal is to make all the groups stronger through increased communication and coordination.
Coalition members include Together We Will (TWW), Indivisible Bluegrass, Our Revolution Central Kentucky, the state Democratic Party, Kentucky National Organization for Women, and NAACP. More groups are joining every week.
At its first first meeting on April 29, the coalition agreed to continue to meet in person and via conference call. its second meeting is scheduled for 2 p.m. on Sunday, May 28, at the Unitarian Universalist Church of Lexington. Speakers will include Kentucky Democratic Party Executive Director Mary Nishimuta, state Senator Reggie Thomas, Sellus Wilder of Statewide Alliance, and Walk the Talk founder Shannon Stuart-Smith.
"The May 28 meeting started out as a joint meeting of Indivisible Bluegrass and TWW, but then the other groups in the coalition said they wanted to come," said Jane Eller of Indivisible Bluegrass. "Everyone wanted to be there to talk about ways to move forward together. And that's a good thing; it shows this desire for unity."
Eller expects a standing-room-only crowd at the meeting. If you plan to attend, please RSVP on the coalition's Face Book page.
"We have many progressive groups in the Sixth District with similar goals. The coalition will serve as a glue to enable us to communicate and collaborate so we can become a formidable, unified force in central Kentucky."
-Trent Garrison, coalition co-founder and networking chair for TWW Bluegrass
---
Calls, letters, emails: most powerful way to resist
Our rallies and protests get all the media attention, but our phone calls, letters and emails to our members of Congress are our most powerful tools. These contacts take only a few minutes, but they are important because each and every one counts as a constituent vote for or against the topic at hand. Besides, our representatives are required to record our input, and the time this takes is less time they have to figure out how to kill Obamacare, fund Trump's absurd border wall, and give more tax breaks to the rich.
This week, the national Indivisible office is asking us to call our senators to oppose the Republicans' draconian health care bill. See our Talking Points for questions to ask.
Read our periodic Resistance Alerts to continue speaking out in this important way. Remember: We need your voice!
---
Help us help you get involved
Indivisible Bluegrass is now 509 members strong! To learn how we can involve all our members, as well as recruit new ones from across the Sixth District, we sent you a questionnaire earlier this week asking for your preferences and availability with regard to events and activities.
As we often say, resistance is a marathon, not a sprint. For this reason, it is important that we periodically ask our members to talk back to us. The questionnaire is short, so please take the time to complete it. If you did not receive the email with the newsletter, please let us know.
---
REMINDER
If you attended one of the two recent Walk the Talk trainings and received a volunteer packet, the forms are due back by the end of this month. Walk the Talk is a coalition of progressive groups that will be canvassing registered Democrats over the coming months in an effort to retake the Sixth District in the 2018 mid-term election. See the coalition's website for more information.