A Newsletter of Indivisible Bluegrass
---
April 27, 2017
Raucous Group Greets Barr
U.S. Rep. Andy Barr was greeted with a firestorm of red "Disagree" signs and deafening boos in Lexington on Monday, April 24, during a packed town hall in Lafayette High School's 600-seat auditorium.
Following a pattern seen at Republican town halls around the country, the dominant topic was health care and the crowd was mostly angry at Republican efforts to repeal and replace the Affordable Care Act (ACA).
To encourage a respectful atmosphere, Indivisible Bluegrass provided red "Disagree" signs and green "Agree" signs to attendees on their way into the auditorium, but the 90-minute event was, nevertheless, a heated one.

People lined up outside Lafayette High School to attend the Barr Town Hall meeting. The auditorium was packed and with standing room only for many. Photo by Debbie Winslow.
Barr blasted the ACA and defended the Republican replacement plan, the American Health Care Act (AHCA). He said the AHCA would save the government money, increase competition among insurers, and shift control of health care from the federal government to the states. (The act was pulled from the U.S. House of Representatives last month when Republicans could not agree on details of the plan. The Trump Administration is trying to revive it.)
The audience did not buy Barr's arguments. They shouted "not true" when he said the AHCA would save the government money and increase competition among insurers. They rose to their feet in anger when he supported the act's defunding of Planned Parenthood. And they booed for 10 seconds when he characterized the ACA as being "in a death spiral."
On other topics, the audience loudly opposed Barr's support of:
Funding for Trump's border wall.
Repeal of the Clean Water Act.
Repeal of a recent Federal Communications Commission rule giving internet users greater control over what service providers can do with their data.
Barr repeatedly called for order and respect during the talk, but to no avail.
"People were upset because Andy Barr did not really listen to us," said Indivisible member Peter Wedlund, who attended. "He simply went into his well worn talking points that follow the partisan line. It's as if he's representing the Republican Party and not us, his constituents."
The town hall was Barr's third since January, but his first in Lexington since 2013.
---
Determinedly Marching for Science
Neither cold nor rain deterred the almost 700 people who marched through downtown Lexington on Saturday, April 22, to express their outrage at the denial of science by many in the Trump Administration and the danger of losing funding for science research. Their signs and faces say it all.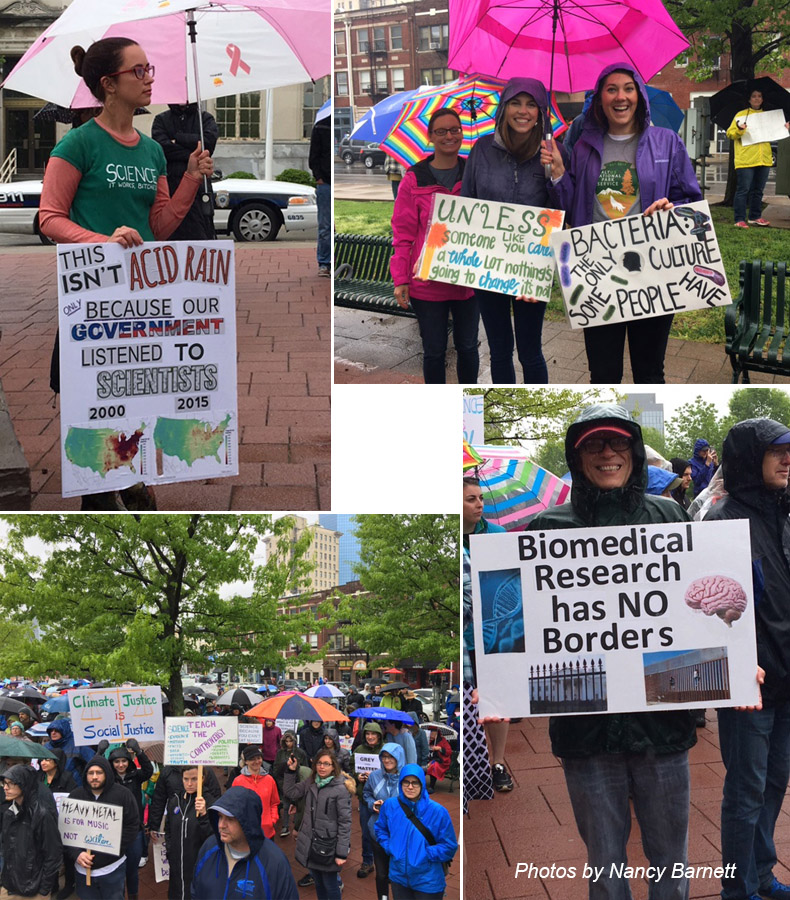 ---
So It Begins: Walk the Talk
So it begins. Indivisible Bluegrass learned about Walk the Talk last month from Shannon Stuart-Smith, a consultant to non-profit agencies, who told us about this coalition of progressive groups working toward retaking the Sixth District in the 2018 mid-term election. On Sunday, April 23, a large contingent of volunteers from Indivisible Bluegrass and other progressive groups were given the basics of how to be "listeners" as they canvas Democrats throughout the district.
Kentucky Senator Reggie Thomas of the 16th District talked to the group about the challenge ahead for us to retake the Sixth District. He quoted Gandhi, saying "Be the change that you wish to see in the world." Sen. Thomas says there are three things we need to be successful in campaigning for our candidates:
Money
Strong presence on social media
Face-to-face contact
The Sixth District, Thomas said, is one of 10 Kentucky districts considered flippable and he feels that it is critically important to get people engaged. The Democratic Party brand is, he says, damaged. "We have to find out why it is damaged and then correct it." Start the canvassing now, he encouraged, so that we can have 18 months to turn things around.
Stuart-Smith, along with coalition co-developer Roger Brown, related how and why they developed Walk the Talk, and Fayette County Democratic Chair Clint Morris gave specifics on how to go about the canvassing.
The coalition is targeting 13,751 Democrats who vote in general elections but who have not voted in the last two mid-term elections.
"Be the change that you wish to see in the world"
–Ghandi
Walk the Talk is working closely with the Fayette County Democratic Party. As the project is fine tuned, other counties throughout the state will be encouraged to initiate their own Walk the Talk program.
Participants were given individualized packets that are to be turned in by the end of May. The Fayette County Democratic Party will tabulate the results, which will help guide officials in identifying issues important to voters and how the party can best address them.
---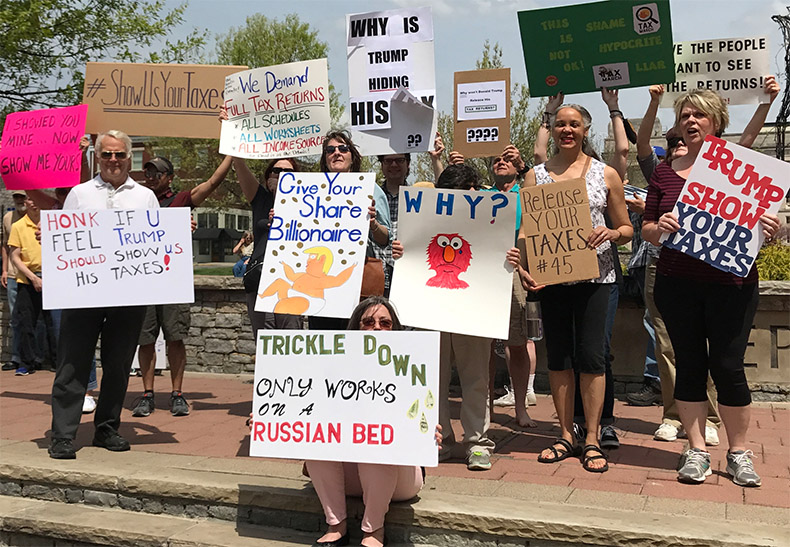 "Show Your Taxes, Trump!"
It was a warm, sunny day in Lexington when about 300 members of Indivisible Bluegrass and other resistance groups gathered with the National Organization of Women to march in protest of President Trump's refusal to release his tax returns. The crowd was rowdy and loud and got lots of horn toots of approval from passing cars. It was another one of those gatherings where many of us were chanting, "This is what democracy looks like!" And it is.
---
We Have Persisted
Our weekly meetings at the Lexington offices of Sen. Mitch McConnell and Rep. Andy Barr have continued for the past few months. We squeezed in one meeting at Sen. Rand Paul's office, but his Lexington office was otherwise closed and shuttered. Even when members of Indivisible Bluegrass traveled to Paul's Bowling Green office, we had to direct our questions to a receptionist behind a glass partition.
In our visits, we limit our time to 30 minutes. We focus on facts and questions, with a great deal of support provided by our Research Committee, and we address one issue on each visit. We are always polite and respectful and we thank our hosts for their time. The leader on each visit emails the congressional office afterwards, repeating our requests for information on specific points made during the discussion.
The national Indivisible movement has asked the almost 6,000 local Indivisible groups throughout the nation to make weekly visits to their members of Congress for the first 100 day of Trump's administration. With that marker being completed at the end of this week, our last weekly visit will be to McConnell's office this Friday at 10 a.m. If you are interested in attending, contact Rita Salzberg.
Upcoming Events
VISIT TO SEN. MCCONNELL'S OFFICE
Friday, April 28, 10 a.m.
WALK THE TALK LISTENER TRAINING
Saturday, April 29, 10 a.m., Lexington Public Library Northside Branch
For more information on these and other Indivisible Bluegrass events, go to the Events page of our web site.